Dennison-Vang Lutheran Parish
is a combined ministry of two congregations. Community of Faith with a Proud Past, a Vibrant Present, a Hopeful Future.
Reaching out with the love of Christ.
Dennison and Vang Lutheran is a combined ministry of two congregations with a proud history, a vibrant present, and a bright future. Our mission is to be a loving presence for our community in Christ's name. Dennison and Vang are located about 3 miles apart from each other in Dennison, MN.
We are a part of the Evangelical Lutheran Church of America (ELCA), and the Southeastern Minnesota Synod.



Worship at Dennison and Vang
Alive in the Adventure of Jesus
Holy Week
Come join Jesus in his Passover from death to life, and be renewed in the Spirit.
Palm Sunday – April 2 – 9:00 AM at Dennison, 11:00 at Vang
Maundy Thursday – April 6 – 7:00 PM at Dennison
Good Friday Community service – April 7 at Holden Lutheran Church at 7:00 PM
Easter Vigil Community service – April 8 – 8:00 PM at Boe Memorial Chapel, St. Olaf College
Easter Sunday – April 9 – 7:30 AM at Vang, 9:00 AM at Dennison
Easter Breakfast – April 9 – 8:30 AM at Vang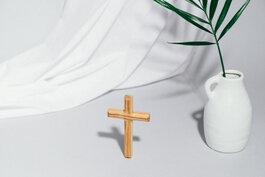 Ministry Updates
Lion's Club Pancake Breakfast
The Dennison Lion's Club will have its annual Pancake Breakfast at Dennison Lutheran Church on Sunday, April 2 (Palm Sunday) beginning at 8:00 AM. The Dennison Lions do good work in the community, and this is a great way to support their efforts. Hope to see you there!
Kenyon Area Churches Update
There was an item in this month's newsletter about an adult forum/potluck hosted by Kenyon/Wannamingo churches scheduled for April 17 at Holden Lutheran. That event has been postponed to a later date due to busy schedules. Thanks for your understanding.
Sacred Sites Tour
All are invited to a Sacred Sites tour on Sunday, April 30 at 2:00 PM. Sacred Sites tours offer an opportunity to learn about Minnesota history from a Native perspective. Tours are led by Rev. Jim Bear Jacobs (Mohican) and Kelly Sherman Conroy (Oglala Lakota) and are a project of the Minnesota Council of Churches. All tours meet at Church of St. Peter, 1405 Sibley Memorial Highway, St. Paul, MN 55120. Look for a sign-up sheet soon, or contact the church office or Pastor Paul.