Dennison-Vang Lutheran Parish
A Community of Faith with a Proud Past, a Vibrant Present, a Hopeful Future.
Reaching out with the love of Christ.
Dennison and Vang Lutheran is a combined ministry of two congregations with a proud history, a vibrant present, and a bright future. Our mission is to be a loving presence for our community in Christ's name. Dennison and Vang are located about 3 miles apart from each other in Dennison, MN.
We are a part of the Evangelical Lutheran Church of America (ELCA), and the Southeastern Minnesota Synod.
Worship Schedule & Announcements
Sunday, September 12th
Worship at Dennison and Vang
Come hear God's word to you this weekend!
Vang - 9:00 AM – Come worship as we give thanks and hear the good news of God.
Dennison – 11:00 AM – Come experience new ways to worship at Dennison, and hear of Dennison's outreach to the community
Family Ministry Update
The family ministry team has been hard at work getting ready for this fall! If you haven't already, please fill out the survey prepared by the family ministry team. Your feedback is important. We look forward to the start of Sunday School, confirmation, and getting ready for the ELCA Youth Gathering coming up this summer. It will be a good year. See you on Rally Day!
https://docs.google.com/forms/d/1qKBJOGOoHFtLpAnzWgvfe5Otr0lLCje7jAORGX18oj0/edit?usp=drive_web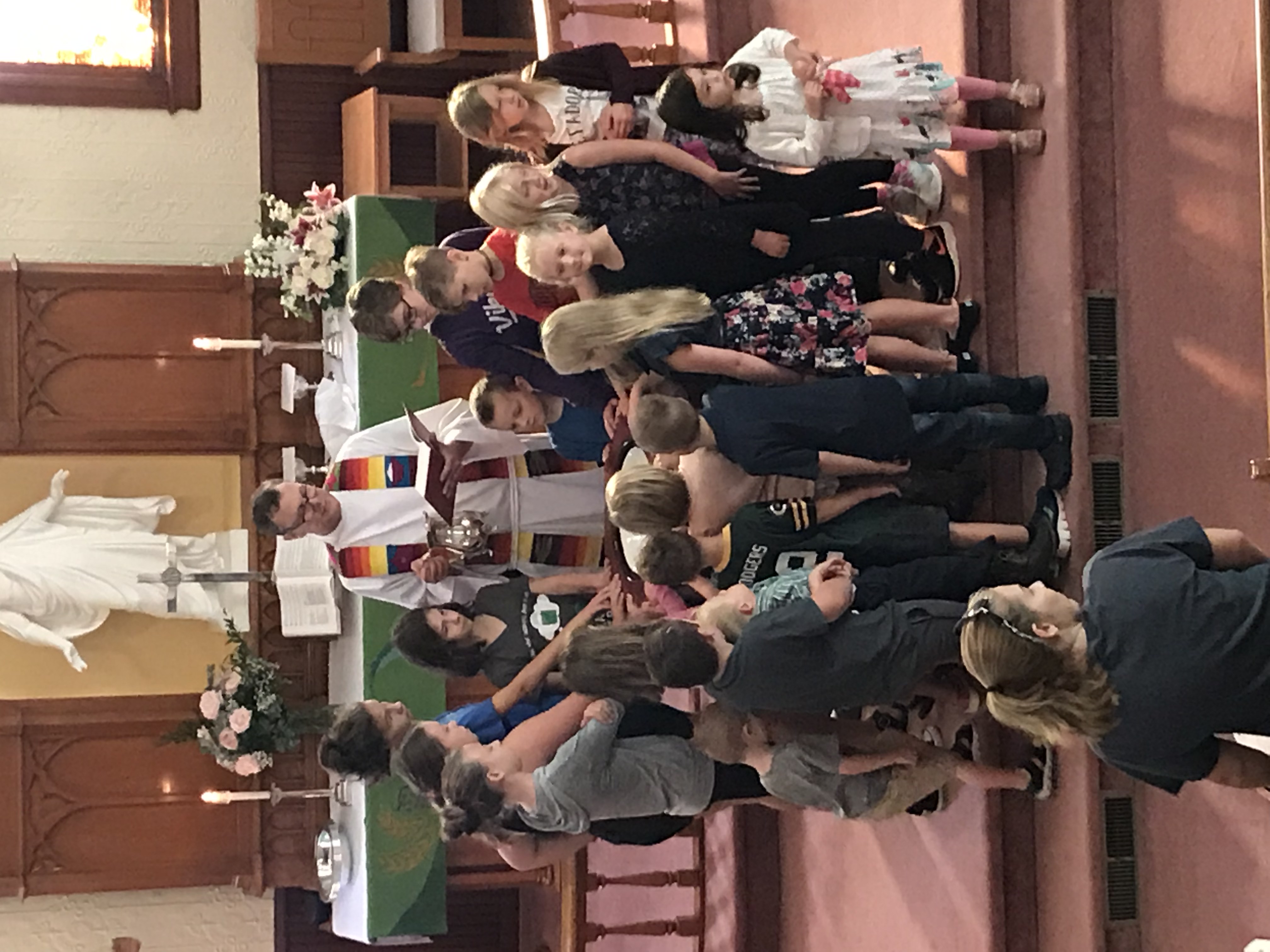 Rally Day Save the Date!
Rally Day is coming up, and it will be a celebration! And we do indeed have much to celebrate. At Rally Day, we will celebrate
· Because God loves us, Christ shows us the way, and the Spirit guides us.
· The change of seasons from summer to fall
· Our awesome kids and families – Rally Day marks the kickoff to things like Sunday school and confirmation.
There will be a festive worship service followed by fun games, activities, and special treats. See you there!
Rally Day: September 19, 9:00 AM at Vang (this will be a combined service with Dennison)
Church Safety Update
With COVID numbers on the rise across the country, church safety continues to be a top priority. We are currently following the lead of many local businesses and churches, with the policy that masks are optional for those who have received the vaccination and required for those who have not. Please stay home if you have any COVID like symptoms. While in the worship building, please make frequent use of the hand sanitizing stations positioned around the church.
New Worship Opportunities at Dennison Lutheran Community Church
This fall, Dennison Lutheran Community church will be offering new worship opportunities you will definitely want to experience. With music led by Todd Thompson, come check out innovative approaches to worship and community.
Sunday Morning Worship – The first Sunday of the month will feature special music, joyful songs, and a message of hope and healing from God's Word. You will leave this worship time feeling refreshed, strengthened, and renewed.
Caring for the Earth, Helping You Church
On Rally Day (Sept. 19) come learn how you can sign up for a community solar garden. Community solar gardens are for people who want to use solar but can't install panels on their own. It allows you to support renewable energy and lowers utility bills. Plus, for every individual who signs up, Novel Energy Solutions will give a $50 donation to the church! Please note that to access this program you must be an Excel Energy customer. Find out more at Novel Energy - https://novelenergy.biz/
Songs of My Life – This innovative gathering will be on the 3rd Sunday of the month. The Songs of My Life Gathering is open to anyone who is seeking connection. People are invited to gather to share stories, songs and space with each other. In this way we grow together in our journey here on earth.
Taize Prayer – On the third Wednesday of the month at 7:00 PM, come spend some peaceful moments with God. Taizé Prayer is evening prayer for all Christian faiths. It is a simple, meditative form of worship, calling us to open to Christ's presence around and within us. Taizé Prayer is named for the ecumenical Christian community formed in Taizé, France during World War II. It is an evening prayer practiced by millions of people all over the world.
Come re-imagine what church can be at Dennison Lutheran Community Church, and help us to "Sing to the Lord a new song!"
Since Dennison will be gathering every other Sunday and once a month on Wednesdays, please note the dates of worship every month. More information is on the newsletter calendar and the church website.
These opportunities are meant for outreach, so invite a friend!
Contemplative Prayer
Last spring, a group met to explore contemplative prayer practices. It was a meaningful and fruitful time together learning these ancient ways of prayer.
There will be contemplative prayer offered every third Wednesday of the month at 6:15 PM (prior to the monthly Evening Prayer at Dennison Lutheran.)
All are welcome to come to experience these life-giving and transformative ways to pray.