Dennison-Vang Lutheran Parish
A Community of Faith with a Proud Past, a Vibrant Present, a Hopeful Future.
Reaching out with the love of Christ.
Dennison and Vang Lutheran is a combined ministry of two congregations with a proud history, a vibrant present, and a bright future. Our mission is to be a loving presence for our community in Christ's name. Dennison and Vang are located about 3 miles apart from each other in Dennison, MN.
We are a part of the Evangelical Lutheran Church of America (ELCA), and the Southeastern Minnesota Synod.



Worship at Dennison and Vang
Alive in the Adventure of Jesus
Sunday, February 5
Dennison – 9:00
Vang – 11:00 (Annual Meeting)
Sunday, February 12th
Dennison – 9:00
Vang – 11:00
Wednesday, February 15th –Songs of My Life
Dennison – 6:30 PM
Sunday, February 19th
Dennison – 9:00
Vang – 11:00
Wednesday, February 22nd-Ash Wednesday
7:00 pm Dennison
Sunday, February 26th
Dennison – 9:00
Vang – 11:00
Sip and Paint
Sip and Paint - Spring Gnome
Sunday, February 26, 4-6 pm
First Lutheran Church, 309 Forest St. Kenyon MN
Gather for Sunday fun! Suzanne Schwichtenberg of the Upper East Side in Faribault will guide us as we paint a Spring Gnome. Your fee includes painting supplies and light refreshments, wine, beer, and/or other beverages. Friends are welcome. This is an event for ages 21 years and older.
To register, call the church office, 507-789-5261. You may pay with Venmo, using @Amy-Alisa-Lee., or by check, First Evangical Lutheran Church, 309 Forest St. Kenyon, MN 55946. Register and pay by Sunday, February 19. We look forward to seeing you there.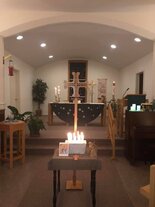 Songs of My Life
In Songs of My Life gatherings, we build community and connection through music and stories. Since beginning Songs of My Life at Dennison Lutheran Church, there have been many powerful, thoughtful, humorous, prayerful, and meaningful moments.
Beginning this month Songs of My Life will be moving Wednesday evenings. On the third Wednesday of the month, come check out these unique and life-giving gatherings (and bring a friend!)
In addition, there will be a dinner served before Songs of My Life. Come and be filled in body and in spirit.
The next Songs of My Life will be on Wednesday, February 15. Dinner will be at 6:30, and Songs of My Life will begin at 7:00.
Lent 2023
Lent begins on Ash Wednesday, February 22. Soup suppers begin at 6:00, and worship is at 7:00. All soup suppers and worships will be at Dennison Lutheran.
The Lenten focus this year will be "The Way of Love: Practices for a Jesus Centered Life," entering into reflection, discernment and commitment around the practices of Turn – Learn – Pray – Worship – Bless – Go – Rest.
All are welcome.
Community and Faith Formation Nights – February
For Adults, Youth, and Children
All are invited to community building and faith formation at Dennison and Vang! On the 2nd and 4th Wednesdays of the month, Dennison and Vang will offer a time for all ages to gather, worship, and grow together. The evenings will start with a brief worship time, followed by learning and faith growth time for children, youth, and adults.
Wednesday, February 8th & 22nd at Vang, 6:30 PM
Adult Bible Study
Confirmation Session
Activities for k-6